Born Punk was funded on kickstarter, and we're 5 stretch goals in!
---
Hello there, itch.io!
We are very happy to announce that since our kickstarter campaign began five days ago, not only were we fully funded, but we also reached five of our eleven stretch goals! Lots of people found our project directly through our itch.io download links, which is very cool and bolsters our confidence in not only our own project, but also this very website! The willingness of this community to support upcoming games is astounding!
We are now working towards our next stretch goal, which will introduce a second playable character; something we are very keen on. Exploring the cyberpunky streets of Bornholm with our combat hacker Eevi is one thing, but exploring the glittering world of corporate wealth and greed with the yet to be named Corporate CEO character is going to give the game a lot more depth. Thank you for making us excited that we may actually be able to reach that goal!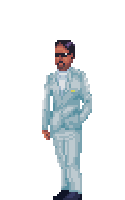 Please do check out our kickstarter page if you haven't yet: https://www.kickstarter.com/projects/insertdisk22/born-punk-a-cyberpunky-classic...
And now... once more... thank you so much, itch.io! <3
Files
BornPunkKickstarterDemo_Windows.exe
161 MB
Feb 05, 2019
BornPunkKickstarterDemo_Linux.zip
182 MB
Feb 05, 2019
BornPunkKickstarterDemo_Mac.zip
166 MB
Feb 05, 2019
Get Born Punk Kickstarter Demo (Outdated)